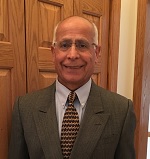 Former Director at ADM Poultry Marketing and Technical Support
Consultant :Poultry Nutrition and BiochemistryPoultry Nutrition and Biochemistry
SIFRI SOLUTIONS LLC. PSA Emeritus Fellow
Presentation Title: Interactions of Nutrients and Feed Additives and Their Impact on Gut Health
Session III Prebiotics - Probiotics / Gut Health
Dr. Sifri received his B.S. and M.S. degrees in- Poultry Nutrition & Management from the American University of Beirut, Lebanon and his Ph.D. in Poultry Nutrition and Biochemistry from North Dakota State University, Fargo, ND, USA. He was a research Fellow at the University of California, Davis (NASA Project) and at the University of Wisconsin, Madison. He was chairman of PSA Informal Nutrition Symposium committee and currently the Co-Chair
Mamduh is a "Poultry Science Association FELLOW" for his distinguished contribution to the field of poultry science.
He is on the review boards of several scientific journals and is actively involved in a few Advisory Scientific Boards.
He published in many prestigious scientific journals such as Comparative Physiology and Biochemistry, Agriculture and Food Chemistry, Poultry Science and Applied Poultry Research.
Mamduh believes in multiplying the learning ability for people so they can achieve their ultimate goals and make an impact on others to do the same.