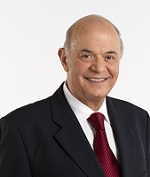 Wadi Group / Tanmia Co.
Cairo, Egypt / Beirut, Lebanon
Presentation Title: Advancement of Biosecurity with Appropriate Poultry House Structure and Innovative Ventilation
Session V - Housing
Eng. Musa Freiji may easily be described as the father of commercial poultry production in Lebanon and the Arab World. Upon his graduation from AUB in 1957 up to the present time he got involved in establishing production companies and in promoting the latest technologies in poultry husbandry in Lebanon, Syria, Jordan, Saudi Arabia, Egypt and Sudan.
He also extended the free service principle to growers of egg or poultry meat production in 20 Arab and African countries in order to improve their efficiency, productivity, bio-security, food safety and profitability.
Mr. Freiji cooperated with scientific establishments such as the Faculty of Agriculture at AUB and the Regional FAO laboratory in Lebanon (1958-1972). He never missed any of the World Poultry Science Association Congresses. He lectured on scientific and economic matters in poultry, agriculture and economy at large for the past 50 years. His 26 companies not only employed tens of thousands but more importantly graduated hundreds of veterinarians, agricultural engineers and technicians all of whom obtained excellent training and work experience in fields like husbandry, disease prevention and cure, feeding and feed formulations, GMP, WCM. Those become the seeds for their own establishments or newly established poultry companies.
Mr. Freiji's interventions and solutions in critical issues such as protection from dumped imports, or Avian Influenza epidemic or Salmonella contamination have always been highly appreciated and adopted by several Arab governments for the benefit of the producer and consumer.