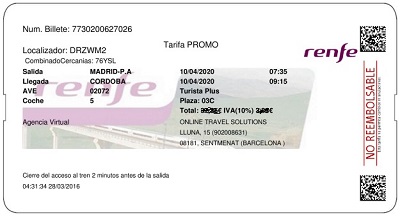 Attendees of the 7th Mediterranean Poultry Summit of the WPSA can get 30% discount on their train tickets.
The offer is valid for all AVE (High Speed Trains) and Long-Distance trains on Spanish routes, for one-way or round trips, not being cumulative to other commercial offers.
The event attendee will obtain the "discount authorization" and must present it at the authorized points of sale (stations and travel agencies) to obtain the discount when buying the ticket. Also, these tickets can be purchased through the internet on the website of the Spanish Railway company (RENFE website: www.renfe.com).
It will be necessary for those attending the event to accompany the train ticket with the printed "discount authorization", which must be presented at the access control or Renfe staff that requires it.
To obtain the 30% discount authorization in RENFE, request it by email to the technical secretariat of the Congress This email address is being protected from spambots. You need JavaScript enabled to view it., once your registration is formalized.
The discount is valid for trains from March 23 to 29, 2020
Read the text in Spanish: https://www.wpsa-aeca.es/articulo.php?id_articulo=5163