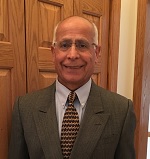 Mamduh Sifri, PhD, Poultry Nutrition and Biochemistry. PSA Emeritus Fellow.  American University of Beirut (AUB) Distinguished Alumni
| | |
| --- | --- |
| Title | Worshop: How does poultry defend itself from insults |
| Workshop_2   | Producers' Workshop |
| Slot | W2-01 - 08 June 2022   -  12:00-13:30 |
Current:
SIFRI SOLUTIONS LLC, OWNER
Consultant, Advisor, and Facilitator: The primary focus is nutrition and metabolism and their interrelationship with immunity and microflora of the digestive system.  
Retired:
ADM: Director - Poultry, Marketing & Technical Support
Education:  
Bachelor of Science, Agricultural Engineering and Master of Science- Poultry Nutrition & Management from the American University of Beirut, Lebanon.
Ph.D. in Poultry Nutrition and Biochemistry from North Dakota State University, Fargo, ND, USA
Research Fellow at the University of California, Davis (NASA Project) and Biochemistry at the University of Wisconsin, Madison. 
Social and Scientific Associations
American University of Beirut Distinguished Alumni in 2018.
Journal of Applied Poultry Research Nutrition Section Editor as of September 2018.
Chair of PSA Informal Nutrition Symposium committee for 26 years and currently the Co-Chair.
Poultry Science Association EMERITUS FELLOW for distinguished contribution to the field of poultry science.
Nutrition Section Editor of Journal of Applied Poultry Research from 2018 to Current; March 2020.
Member of the committee of the Poultry Industry Hall of Fame Award.
Member of review boards for a few scientific journals.
Member of the Scientific Committee of the Mediterranean Poultry Summit
Published in many prestigious scientific journals such as Comparative Physiology and Biochemistry, Agriculture and Food Chemistry, Poultry Science and Journal of Applied Poultry Research.
Lectured at many universities, industry functions and international symposia in the USA and Internationally about business conduct, research and the application of science in business.
Volunteer for SCORE to help small businesses, Habitats for Humanity and YMCA.
Member of USB Committees; Animal Nutrition Working Group and A Special Soybean Task Force.
Mamduh believes in multiplying the learning ability for people so they can achieve their ultimate goals and make an impact on others to do the same.